Book of the Month - March 2020 Unboxing
This month has been chaotic so my box arrived a little later than usual. Without further delay, check out my pick for March and this month's bookmark!~
This post is not sponsored but it does contain referral links and if you make a purchase through said link, you will receive a discount and help me in the process so thank you.
First of all, What is Book of the Month?
Book of the Month is a simple subscription book service that delivers a hardcover book to your doorstep every month! What's different about this service is that you get to pick the book you want from five curated books offered (always new/latest) or skip a month if it's not your cup of tea (and you won't be charged for that month). They also have this thing called add-ons which means you can add two more books for $9.99 each— which is a steal if you were to purchase each hardcover book separately.
Please note: Book of the Month only ships within the US at this time but they have plans of expanding their shipping in the future.
In my honest opinion, this is the best on-a-budget book service and a great way to explore new genres. Did I mention they let you pick from fiction and nonfiction? For strictly YA read addicts, they offer a separate service exclusively tailored to Young adult (which I haven't tried)
Any extras? No. You will not receive trinkets or bookish items like in other book subscription services (OwlCrate, The Librarian's Box, etc.) but they do feature a blue-colored bookmark (which I am always grateful for!) in each box with something bookworm related. March's bookmark reads: Oh, hello again. Short and cute and very much welcomed!~
March's Pick for BOTM
Book #1 | Synopsis/Blurb (from the book)
Lydia and Freddie. Freddie and Lydia. They'd been together for more than a decade, and Lydia thought their love was indestructible.
But she was wrong. On her twenty-eighth birthday, Freddie died in a car accident.
So now it's just Lydia, and all she wants to do is hide indoors and sob until her eyes fall out. But Lydia knows that Freddie would want her to try to live fully, happily, even without him. So, enlisting the help of his best friend, Jonah, and her sister, Elle, she takes her first tentative steps into the world, open to life–and perhaps even love–again.
But then something inexplicable happens that gives her another chance at her old life with Freddie. A life where none of the tragic events of the past few months have happened.
Lydia is pulled again and again across the doorway of her past, living two lives, impossibly, at once. But there's an emotional toll to returning to a world where Freddie, alive, still owns her heart. Because there's someone in her new life, her real life, who wants her to stay.
Written with Josie Silver's trademark warmth and wit, The Two Lives of Lydia Birdis a powerful and thrilling love story about the what-ifs that arise at life's crossroads, and what happens when one woman is given a miraculous chance to answer them.
Book #2 | Synopsis/Blurb (from the Goodreads)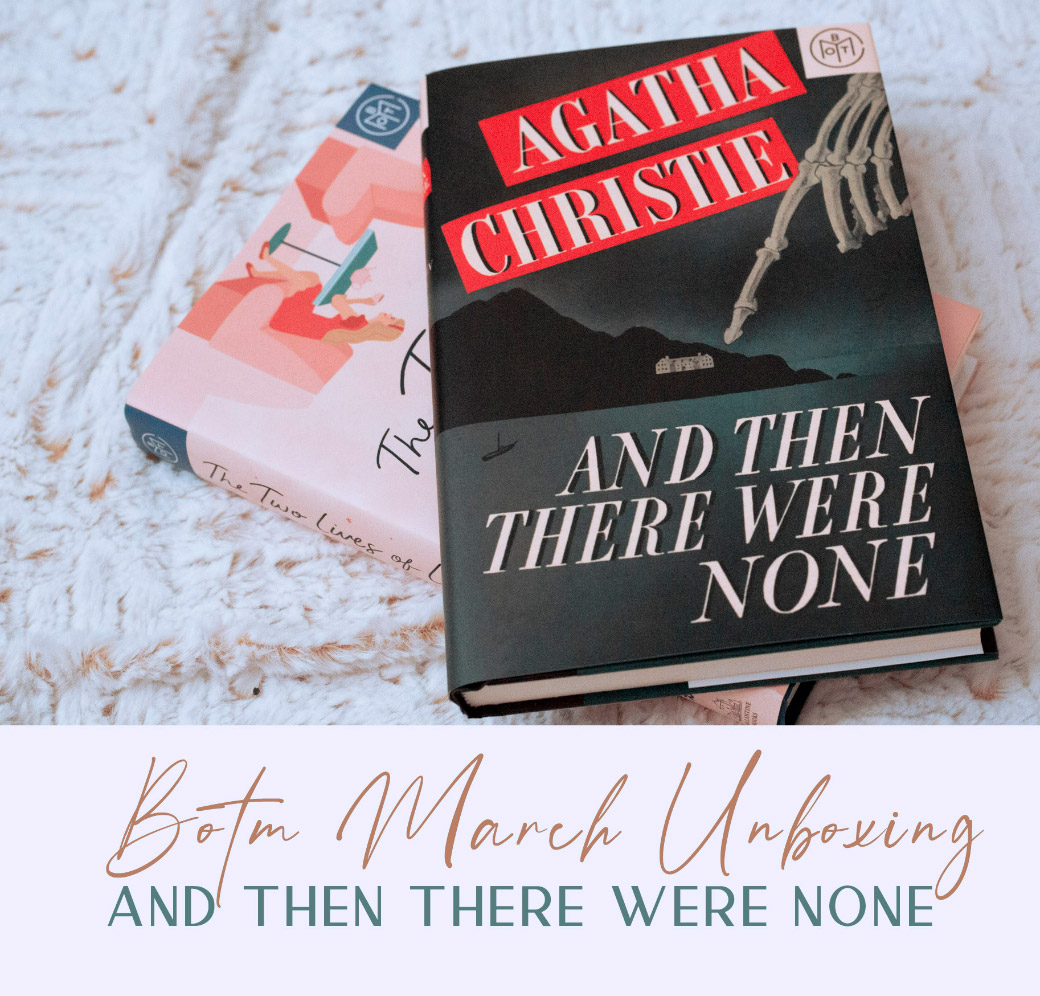 First, there were ten—a curious assortment of strangers summoned as weekend guests to a little private island off the coast of Devon. Their host, an eccentric millionaire unknown to all of them, is nowhere to be found. All that the guests have in common is a wicked past they're unwilling to reveal—and a secret that will seal their fate. For each has been marked for murder. A famous nursery rhyme is framed and hung in every room of the mansion:
"Ten little boys went out to dine; One choked his little self and then there were nine. Nine little boys sat up very late; One overslept himself and then there were eight. Eight little boys traveling in Devon; One said he'd stay there then there were seven. Seven little boys chopping up sticks; One chopped himself in half and then there were six. Six little boys playing with a hive; A bumblebee stung one and then there were five. Five little boys going in for law; One got in Chancery and then there were four. Four little boys going out to sea; A red herring swallowed one and then there were three. Three little boys walking in the zoo; A big bear hugged one and then there were two. Two little boys sitting in the sun; One got frizzled up and then there was one. One little boy left all alone; He went out and hanged himself and then there were none."
When they realize that murders are occurring as described in the rhyme, terror mounts. One by one they fall prey. Before the weekend is out, there will be none. Who has choreographed this dastardly scheme? And who will be left to tell the tale? Only the dead are above suspicion.
---
I skipped one month due to not liking any of the titles and got a book credit for it. The extra book was free.
I've been wanting to read an Agatha Christie book in awhile and this seemed like the perfect fit.
Interested in Book of the Month? If you sign up using my link, you can get your first box for only $5.00