The Penguin Book of Mermaids | Book Review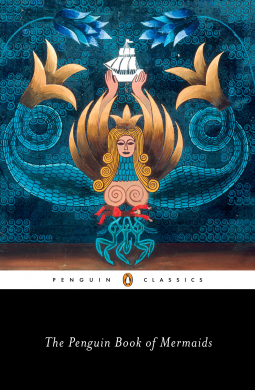 Publication Date: 10-08-2019
 Rating: Positive
 Genre: Fiction (?)
 Type: ARC 
---
Disclaimer: I received the Kindle copy of this book from NetGalley in exchange for an honest review. My opinions remain respectfully my own. Huge thanks to Penguin Classics for approving this book even when it was requested a month past the publication date.
---
Synopsis (NetGalley)
Dive into centuries of mermaid lore with these captivating tales from around the world.
A Penguin Classic
Among the oldest and most popular mythical beings, mermaids and other merfolk have captured the imagination since long before Ariel sold her voice to a sea witch in the beloved Disney film adaptation of Hans Christian Andersen's "The Little Mermaid." As far back as the eighth century B.C., sailors in Homer's Odyssey stuffed wax in their ears to resist the Sirens, who lured men to their watery deaths with song. More than two thousand years later, the gullible New York public lined up to witness a mummified "mermaid" specimen that the enterprising showman P. T. Barnum swore was real.
The Penguin Book of Mermaids is a treasury of such tales about merfolk and water spirits from different cultures, ranging from Scottish selkies to Hindu water-serpents to Chilean sea fairies. A third of the selections are published here in English for the first time, and all are accompanied by commentary that explores their undercurrents, showing us how public perceptions of this popular mythical hybrid–at once a human and a fish–illuminate issues of gender, spirituality, ecology, and sexuality.
---
My Thoughts
The book is packed with legends, folktales, fairytales, etc. about the mermaid and other water creatures. Not a lengthy volume and can be easily finished in a few hours for the typical book enthusiast.
Some of the fairytales are dark in nature, portraying the mermaid as a symbol of great beauty and misfortune.
Tales were collected from all around the globe and there were many that I hadn't heard of.
The Little Mermaid's tale by Andersen was perhaps one of the most tragic, heavily intermixed with Christianity.
Some fairytales spoke of hungering sea creatures that were dramatically different from the innocent portrayal we are used to.
A little background information is given in regards to the legend or anecdote along with what to expect from it, what version was chosen, etc.
Kurahashi's parodic rewriting of the Little Mermaid wasn't one I was particularly familiar with but it was certainly a bizarre read.
Specially eerie were some oral tales where the narrator chose to omit names such as the village where it originated as well as the water deity involved.
"Abyssus Abyssum Invocat." was a story that was downright chilling with modern elements mixed in. The mermaid is portrayed as a strange but alluring creature capable of feats of deadly seduction.
This book gets a 4.5/5 from me. I expected a book about mermaids, water deities and monsters either by a collection of legends, myths, folktales, etc. and this book met all my expectations. It left me fulfilled but with a subtle craving of wishing it was a longer read.
The other book I reviewed about mermaids which was a huge letdown was filled with mermaid propaganda to fill in the blank spaces.
Who would enjoy this book?
I would recommend this book to someone who enjoys reading about water deities, monsters and mermaids. It would also suit the folklore and legends enthusiast or someone seeking a change from their typical nonfiction literature.
---
Social Corner
Have you read any books about mermaids? Fiction or Nonfiction? Is this book in your TBR?