Magpie Murders | Book Review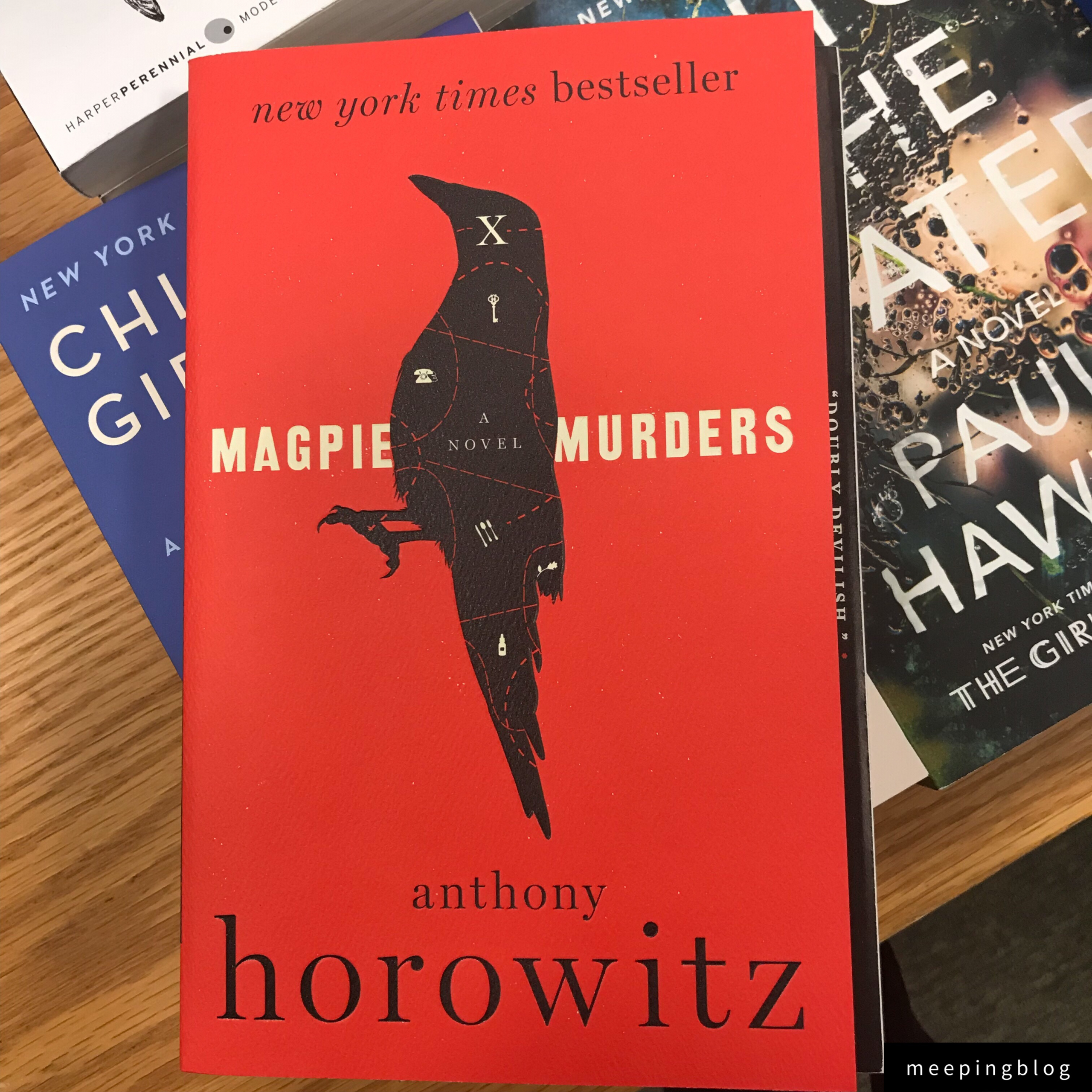 "One for sorrow,
Two for joy,
Three for a girl,
Four for a boy,
Five for silver,
Six for gold,
Seven for a secret,
Never to be told."
Title: Magpie Murders
Author: Anthony Horowitz
Genre: Fiction, Mystery
Pages read: 498
Rating: Positive
---
Synopsis/Summary
(From Goodreads) When editor Susan Ryeland is given the manuscript of Alan Conway's latest novel, she has no reason to think it will be much different from any of his others. After working with the bestselling crime writer for years, she's intimately familiar with his detective, Atticus Pünd, who solves mysteries disturbing sleepy English villages. An homage to queens of classic British crime such as Agatha Christie and Dorothy Sayers, Alan's traditional formula has proved hugely successful. So successful that Susan must continue to put up with his troubling behavior if she wants to keep her job.

Conway's latest tale has Atticus Pünd investigating a murder at Pye Hall, a local manor house. Yes, there are dead bodies and a host of intriguing suspects, but the more Susan reads, the more she's convinced that there is another story hidden in the pages of the manuscript: one of real-life jealousy, greed, ruthless ambition, and murder.
---
The Review/My Thoughts
The best way to describe this book is a whodunit within a whodunit and I have to admit, the first thing I noticed was its cover. Very eye-catching in matte red. I skipped the summary and went straight with reading. It is told in first person point of view, starting in the real world and moving straight into the heart of the fictitious world of Atticus Pünd, where we switch to third person point of view.
It's worth noting that I read the book and listened to its audio version. This audio book was narrated fantastically— with enthusiasm and emotion and pitch tone changes to fit the voice of each character.
Atticus Pünd – Magpie Murders
Everything takes place Saxby-on-Avon, a small village where everybody knows everybody.
It begins with the death of Mary Blakiston and we are gradually introduced chapter by chapter to all the characters. Mary Blakiston's death is treated as an accident but rumors begin to spread like wildfire around the small town of Saxby-on-Avon, bringing with it a series of complications. We are shown a glimpse of each of the character's daily lives as well as what they thought of a particular character.
For example, we are told how the Whitehead's came to establish themselves in the village of Saxby-On-Avon but in another part of the story, we are told how they were of the suspicious sort that couldn't be trusted. This is perhaps meant to confuse the reader or to drive suspicion and build suspense.
The descriptiveness of the whodunit story is one that is hard to put down even as your eyes get heavy with exhaustion. Be warned, it is a rather lengthy book but those are by far my most favorite type of reads— provided, they have a compelling story to go with it.
The pace of this book was fantastic. The author uses vivid descriptions and vague hints that lead to nothing until Pünd makes his introduction. The fictitious, sympathetic German detective begins to piece together everything using every detail that has been thrown at us thus far and deemed 'insignificant'. Pünd is not afraid to make the villagers uncomfortable, ultimately getting under their skin as the list of suspects gradually grows thin.
The last chapter is a bit of a cliffhanger that breaks off to abruptly throw us back into the real world. I felt annoyance and frustration which was exactly the emotions experienced by Susan Ryeland— and in the audio book, it abruptly shifts back to a woman's voice. It's like a cold shock, almost violent in abruptness as it breaks off.
The Ending
"As far as I'm concerned, you can't beat a good whodunnit: the twists & turns, the clues and the red herrings and then, finally, the satisfaction of having everything explained to you in a way that makes you kick yourself because you hadn't seen it from the start."
There were moments I felt genuine frustration as the story deviated and broke off and for a moment, I thought I would never find out the end to the manuscript. It all comes to a satisfying resolution in the end. I must admit I had my suspicions on the murderer but things didn't click for me until the very end and I felt silly for not putting the pieces together.
---
Favorite Book Quotes
'I don't see why not. That's the thing about funerals. They're completely hypocritical. Everyone says how wonderful the deceased was, how kind, how generous when, deep down, they know it's not true."
—
"She had quite literally flung herself down the stairs, hurrying into her own death."
—
"She talked in the way that someone with a punctured lung might breathe. The words came out in fits and starts and I had to concentrate to follow what she was saying."
Rating System
Instead of using stars as a way to rank, I split ratings into: positive, mixed or negative. In the world of traditional stars, it would go like this:
Positive: 4.5/5 Mixed: 3 Negative: 1/2.5
---
Social Corner
What was the last mystery fiction book you read and what was it about?