Laura Ashley Portable Essential Oil Diffuser | in Wellness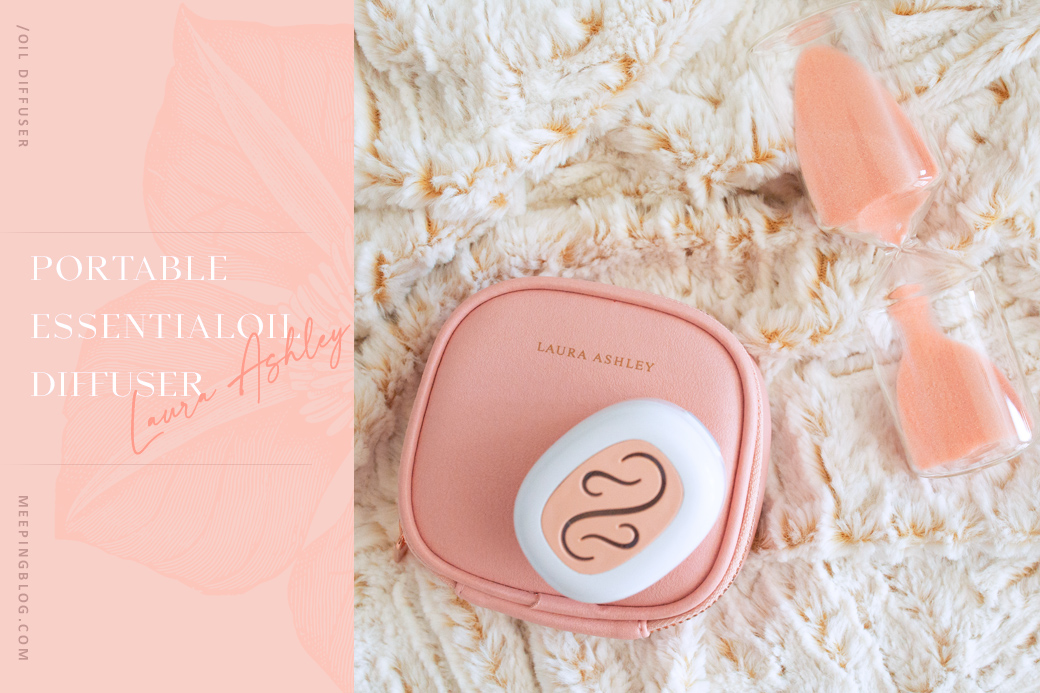 I've been wanting to get an oil diffuser for quite some time now but with oncoming moving plans, I decided to stick with something a little more portable. Enter Laura Ashley's Portable Essential Oil Diffuser.
Disclaimer: This post is not sponsored but may contain affiliate links. All opinions remain respectfully my own.
Products reviewed:
Laura Ashley Portable Essential Oil Diffuser
Please note: I did get mine for $15.00 at TJ Maxx (local) but it retails for $30 at Amazon. Unfortunately, I was not able to find it online at TJ Maxx to be able to link it.
Included
Travel-sized diffuser
USB Power cable (came inside the travel case)
Lemon Aromatherapy Oil (6 ml)
2 Reusable Oil Pads
Travel Case/Pouch (faux leather in pink)
The Process
The process is relatively simple. You simply remove the lid, place an oil pad on the warming plate area, add 2-3 drops of essential oil, close the lid and connect it to a power source.
All the instructions are labeled clearly in the included leaflet.
The light will turn on to indicate it is active and the device will become a bit warm to the touch.
Notes:
Make sure the oil pad is situated correctly and packed onto the warming plate to make sure the lid clicks in place.
Although it says to be cautious because it can become very hot to the touch, I did not notice such a thing. Still, best to let it cool before storing it.
Each oil pad is reusable but meant to represent a certain scent. I imagine you can ignore this and add other scents but just keep in mind that the pad will be already soaked by a previous scent.
The dark stain left by the oil disappears from the pad after some time.
The Scent
It came with the scent 'Lemon' but considering that everything I own lately has that scent, I decided to try my unused bottle of lavender instead.
Initially, I tried the lemon scent and I can confirm it was as strong as the Lavender aromatherapy oil that I own.
Did it help in meditation?
I had heard that essential oils can help when it comes to meditating. I can certainly vouch for this as this was my first time trying out the diffuser (and oils) and I was more relaxed than usual. As a person that is typically tense and takes awhile to wind down, this certainly did the trick. Please note: I did use lavender which is supposed to serve this purpose.
Do I own other scents?
I am guilty of purchasing essential oils and never getting any use out of them except for a quick whiff here and there. Today for the first time ever, I was able to use my lavender essential oil for its intended purpose.
As for my full collection, it's not terribly impressive. I own the scents: lavender, lemon (now), peppermint and frankincense (which is ironically for meditation and I did not try yet).
Final Thoughts
I mistakenly plugged the diffuser beside my bed while taking a quick nap (with the door closed and no windows opened). It was a terrible idea. I woke up light-headed and woozy and the scent had certainly permeated the room. A more suitable location would have been the desk area (as recommended by the manufacturer).
Aesthetically, it is small, compact and composed of light colors and it sits cutely on my desk. For being portable, it certainly packs a punch. The scent tends to travel in one direction so it is recommended to plan the location to maximize its use/direction. The scent extended from my room to a little over the hallway.
I love the travel case. It is very delicate in pink faux leather but practical. I'll have to get some proper pictures of it later on.
I would say I am very happy with my purchase so I am labeling this review as positive. If you are interested on getting your own, you can find it at the usual suspect stores or Amazon.
What other scents should I try when it comes to essential oils?
Thank you for reading!~