SENZER X100 Wireless Gaming Headset | Technology
Disclaimer: SENZER sent me their X100 Wireless Gaming Headset in exchange for an honest, unbiased review. While the company sent me their product for reviewing, this is not a sponsored post which means all thoughts, opinions and observations are solely my own. There are Amazon affiliate links in this post which helps support my blog and keep it free of advertisements at no additional cost to you :)
Testing period: 2-3 weeks
Compatibility: According to the manufacturer, PS4-PS5, Macbook Air/Pro (I don't own any of these devices so I can't confirm), laptops, PC, Nintendo Switch, Xbox One, Xbox Series and other devices that work with a 3.5mm headphone jack. For more supported devices, I advise you to check out the manufacturer's website.
Product duration: N/A. This information will be updated when the product stops functioning. It could be a week, month, year from now.
Price: $58.88 but you can get it for $39.49 according to Amazon but with the discount applied of $10, it was as low as $29.49 from the time of writing this post.
Products tested: SENZER X100 Wireless Gaming Headset for PS5 PS4 PC Switch Bluetooth Gaming Headphones with Mic - Superior In-Game Sound, Memory Foam Pad Comfort Fit, Interchangeable Cover - w/3.5mm Wired for Xbox One Website | Amazon
Included:
X100 Wireless Headset
USB-C charging cable
3.5mm audio cable
USB Bluetooth adapter dongle
Interchangeable plastic covers (matte black)
Instruction manual
Instructions of Operation
If you intend to use your headset in Bluetooth mode, I suggest you charge it. Charging time takes around 3 hours.
For Nintendo Switch, you need to head into Settings > Bluetooth Audio > Pair Device. There's no need to press any buttons on the headset. Make sure you are in Bluetooth mode when using your headset and that you are not connected to another device already.
Review
Hours tested: 40+. Battery life is excellent, in my opinion. I connected it via Bluetooth (the most power-hungry mode) to my iPad mini and set a stopwatch to calculate the hours. I didn't notice any disconnections or interruptions while using it to listen to music, game or even when leaving it idle.
This headset provides seamless switching between devices as there's no need to pair anything. I was easily able to switch between iPhone, iPad and laptop. Make sure to disconnect it from the last device first.
Modes: This headset comes equipped with three modes. Bluetooth mode for Nintendo Switch, Mackbook Air/Pro, iPad and smartphones. Adapter mode (USB dongle) for PS4-PS5, PC and laptops. Wired mode for Xbox One, Xbox Series and all other audio devices that work with a 3.5mm headphone jack.
Interchangeable magnetic plates. Out of the box, you get the plastic black matte covers but if you want a DIY version, SENZER offers customization via their website. As for me, I'm pretty happy with the default plates. I found that these magnetic plates are very strong so there's no chance of accidental drops while wearing the headset. They also stick to each other for a more compact storage solution so that's also nice.
Comfort: When it comes to comfort as well as a one-size-fits-all design, I found this headset to be very versatile and suitable for most individuals. The headset boasts a comfortable design that caters to various head sizes, thanks to its adjustable fabric suspension headband and swiveling cups with memory foam padding, making it suitable for extended wear. I  have a very sensitive/tender head (due to brain injury) and small head size in general and I found this headset to be much more comfortable than what I'm used to. I also had my parents and friends try it out and they all found it very comfortable and adaptable despite their different head shape and sizes.
Easy access control. Even without reading the instructions, you can easily figure out this headset. There are four buttons in total, two on either side: microphone, volume, power and M for mode. There's a verbal indicator when muting/unmuting the microphone which is fantastic for streaming or voice chatting. There's also a verbal indicator when the battery is low. Pause, play next or previous tracks is very handy for YouTube, Spotify, etc. Some basic functions are available for receiving and ending calls but I didn't test it sinceI don't use my headsets for  that purpose.
Noise Cancellation and Suppression
Noise isolation and suppression is fantastic. I was very impressed.
Exceptional at filtering out ambient sounds even when nothing is playing. It is very difficult to hear people chatting among themselves even if they are right next to you if they are speaking at a normal volume.
One of the tests that I ran was having a vacuum running in the same room while someone else was speaking to me at a higher than normal volume. I left the door opened to get some background noise in and I found that most of the noise was suppressed or muffled. However, I did notice that the vacuum would cause interference or popping noises while I was speaking. My voice was never interrupted, however, and even though I was speaking to someone the entire time, only my voice could be heard in the recording.
Aside from the vacuum causing interference, all outside noises were cancelled out including my cat's loud meowing.
Audio
Excellent sound quality; audio playback is a pleasure. I listened to music and even my own recordings using the headset and the sound was crystal clear. No issues with volume control either as it can get acceptably loud or quiet depending on the user's preference. When it comes to gaming, it creates a more intense, isolated experience. I tested this headset with my Nintendo Switch and I found myself very immersed in the game.
Microphone
This headset comes with an omnidirectional microphone equipped with a noise cancelling cover. The microphone itself is pretty decent but I found it to be very sensitive when it comes to the positioning of it as it can greatly impact speech clarity.
I used OBS which is a free software to test this and while raw recording is pretty decent, I would suggest using some kind of software.

Now for some negatives or minor inconveniences.
There's no way to raise or lower the volume fast which I'm not a fan of.
Headset powers off automatically when charging which isn't ideal but since charging takes only three hours, it's only a minor inconvenience. It will still work in wired mode.
When using wired mode, all function buttons (mute, volume rocker, etc.) becomes useless which makes it very inconvenient to use for streaming. The plus is that no extra adapter is needed to get the microphone working. This is not a secret as the brand also mentions it in their product description.
Positioning of the microphone near the mouth affects the clarity of speech as observed from my own testing of the product so always run your own tests before streaming.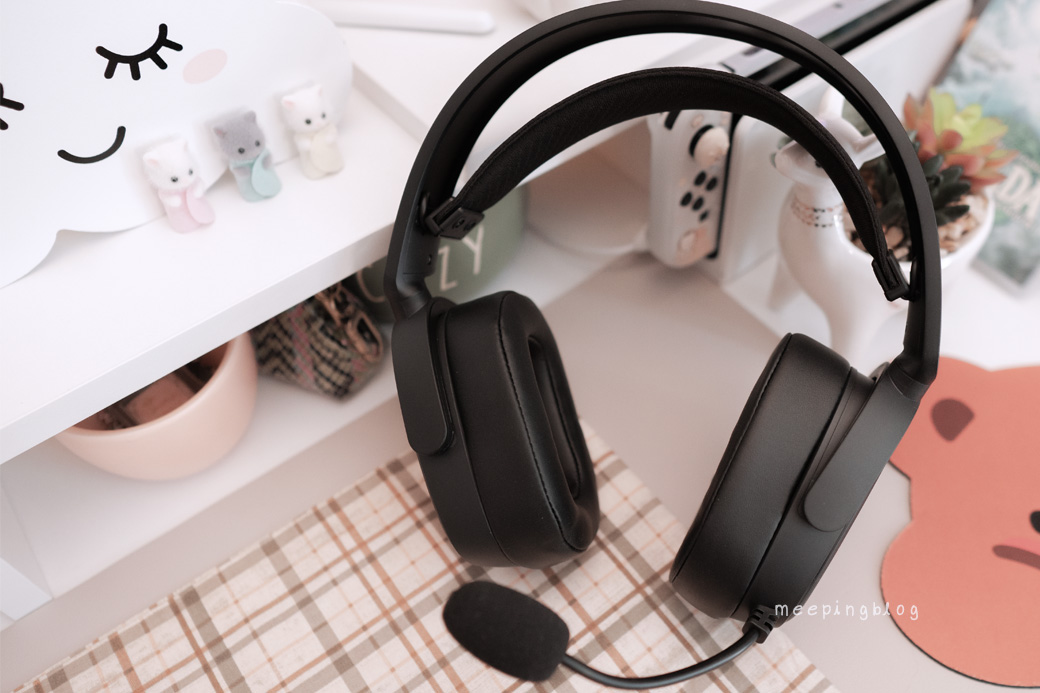 Overall, I think this is a fantastic product, suitable for streamers, YouTubers, gamers or even for voice chatting. For its price point, the headset offers advanced features found in more expensive headsets as well as an ultra comfortable design.
Once again, I want to thank the company for sending me their product for review. I hope you, as the reader, found this review useful.