Ignoring the stressful event that was Windy Forest (Uber Boss Attack), much improved compared to previous times, we now find ourselves at Year-End Fest, a much more relaxed event.
The event duration is from: December 30, 2020 — January 6, 2021. Every day, a new boss will appear on the map and you will have 3 daily attempts to deal damage.
Year-End Challenge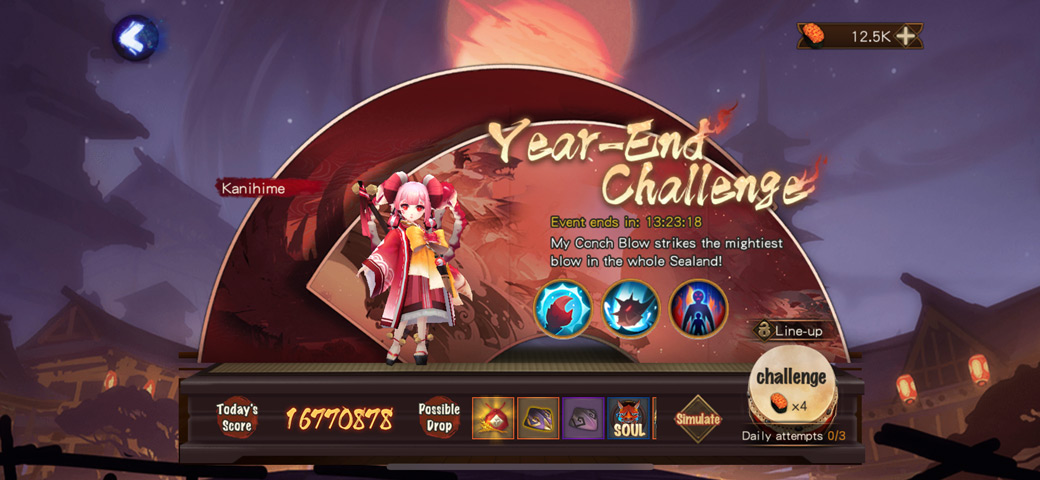 The first boss you challenge is Kanihime in Arakawa. You do not have to KO the boss to receive rewards.
The second boss you will face is Enenra in Mt. Gloom. You will face off against Kamikui and SSR Aoandon. SSR Aoandon is particularly annoying since she steals orbs and has a chance to counter and steal additional orbs. Kamikui will use his third skill which will lower your move bar.
You will face off with a random, new boss for the remaining six days.
If you deal enough damage, you can expect to get 1,000 (harvest gifts), high-grade cyan imps and (1-2) G6 random souls as well as a few G5 souls.
Each battle costs 4AP (Hoarding AP becomes a lot easier once you beat the main story chapters, use realm cards, etc.)
Harvest Gifts can be farmed in Exploration, Evo and Soul zones. This is the currency used at the [shop] to purchase rewards.
There is also a list of [Daily Quests] and [Total Quests] which will grant you a total of Harvest Gifts.
Daily Quests:
Task / Harvest Gift Amount
Clear 5 Soul Zones / 500
Clear 5 Evo Zones / 500
Clear 5 Exploration Zones / 500
Total Quests
Harvest Gift / Task
Day 1 Task Completion
1,000 / Challenge the Boss 1 time
1,500 / Challenge the Boss 2 times
2,000 / Challenge the Boss 3 times
Day 2 Task Completion
2,500 / Challenge the Boss 4 times
3,000 / Challenge the Boss 5 times
5,000 / Challenge the Boss 6 times
Let's talk about the shop. This is my biased list on what you should prioritize as f2p from greater to lesser importance.
---
Item / Harvest Gift Cost
Skill Daruma / 10,000
G5 Grade Daruma / 7500
G6 Drums / 9000
(3) Mystery Amulet / 600
(2) Mystery Amulet / 750
(10) Exp Daruma / 40
Everything else is extra, including the G5 Moon Realm Card since I find Moon the hardest to 'wash'. The only reason Mystery Amulets are even so high up on the list is in preparation for SP Higanbana.
Conclusion
This was a much-needed break after Uber Boss. It didn't require a lot of grinding or high damage to get rewards. Very beginner friendly event.