Sea of Eternity | Onmyoji
The Sea of Eternity featuring Senhime and the story of the merfolk event has just started.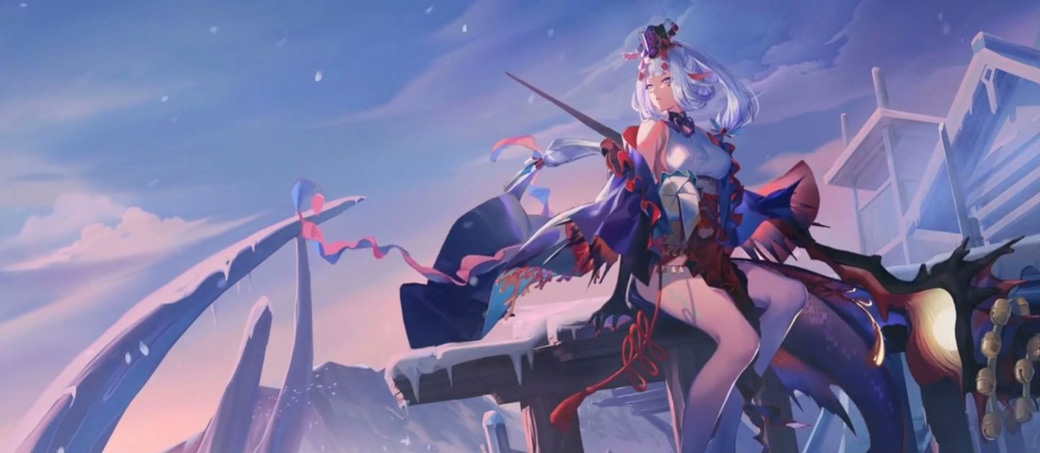 ---
This is a complete guide based on my progress.
---
Suzuka Gozen, accompanied by immortal seer Yao Bikuni embark on a quest to the Sea of Eternity to strike a bargain with the Queen of the Merfolk.
Points of interest
Shells: The currency used in the Sea of Eternity.
Melting Wind: Used in Sea Genie Trials. Resets daily or can be purchased from the shop. You can also get 5 from the Talisman Pass.
Treasure Caskets: Randomly scattered. You can find them during sea exploration. Three can be found in every area but they can only be claimed once.
Crisis Whirlpools: Whirlpools spawn in every area but only one can be challenged once a day. There are three boss battles and rewards are generous but there's a small caveat.
As the leader: Even if you get wiped out, if your teammate manages to beat the fight, you will be granted a generous amount of rewards. The leader is always granted the most rewards.

As the helper: Even if you land the most damage, your rewards won't be a generous as the leader's. These are still worth doing because you are guaranteed to get a sea genie and a generous amount of shells.
Sea Genies: Part of the main story. Each genie has a story to tell and a promise to make with Suzuka Gozen. After a 'promise' is made, expect a fight. Return to Whispering Shore > Tide of Eternity > Infuse Halberd to receive new skills and stat bonuses.
Mansion Kurage: This is the shop of the event and can be accessed from the portal or map. Every time you unlock an area, a section of the shop becomes available.
---
Whispering Shore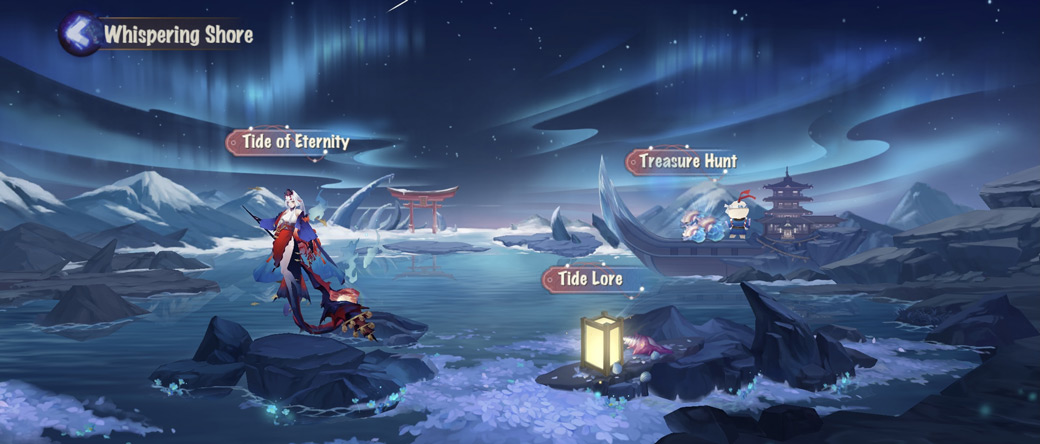 The Whispering Shore is where you can view collected Tidal Force, check out the Tide Lore, collect shells from the Treasure Hunt and upgrade skills/stats.
Tide of Eternity | Tidal Force
Tidal Force can be collected from sea exploration zones and each one grants a unique effect.

Tranquil Sea | Tidal Force
Tranquility: Makes your ship sail 30% faster.
Moonfall Sea | Tidal Force
Moonfall: Reduces the DEF of the enemy by 30% in battles.
Misty Sea | Tidal Force
Mist: Grants a 5% chance of KO'ing all enemies before a battle. (Effective only against normal monsters in the Seas.)
Echoing Sea | Tidal Force
Echo: Increases your ATK by 10% in battles.
Frost Sea | Tidal Force
Frozen: Increases shell farming efficiency in the treasure hunt by 18,000 per hour.
Tide of Eternity | Infuse Halberd

Sea Genies are used to infuse Halberd. They grant unique stat bonuses and skills.
Sea Genie (outlined in purple) vs (Rare) Sea Genie (outlined in gold). The difference between the two is that a (rare) Sea Genie is guaranteed to raise a level while a normal Sea Genie might cost 2-4 to raise a single level.
Tranquil Sea
Roaming Fish: Lv.2 Increases damage multiplier to 6%.
Lv.10 Increases damage multiplier to 14%
Wish Daruma: Lv.2 Increases damage multiplier to 35%.
Lv.10 Increases damage multiplier to 75%.
Moonfall Sea
Grey Fish: Lv.2 When the turn ends, heals own HP and an ally with the lowest proportion of HP each by 5% of the total HP lost.
Lv.10 Increases HP healed to 13%
Dum Dum: Co-op | When an ally uses a normal attack to attack an enemy, they use a normal attack to attack the same enemy.
Lv.2 Increases chance of assisting to 13%
Lv.10 Increases chance of assisting to 37%
Misty Sea
Ghost Heart: When an enemy is KO'd, deals 100% damage to all enemies.
Lv.2 Increases damage to 65%
Lv.10 Increases damage to 110%
Smoke Spirit: Lv.2 Increases SPD by 10.
Lv.10 Increases SPD by 50.
Echoing Sea
Pum Pum: Lv.2 Increases damage dealt on the first three turns by 12%, 7% and 2% respectively.
Lv.10: Increases damage dealt on the first three turns by 28%, 19% and 10% respectively.
Puzzled Monkey: Lv.2 When attacking enemies, has an 9% chance of increasing the damage by 170%.
Lv.10: When attacking enemies, has an 17% chance of increasing the damage by 330%.
Frozen Sea
Frost Rabbit: Lv.2 You have a 20% chance of gaining an orb at the end of an ally's action taken.
Lv.10 You have a 100% chance of gaining an orb at the end of an ally's action taken.
Snow Doll: Lv.2 When attacking enemies, has a 13% chance of inflicting Freeze on the enemies. Increases damage dealt to units with Freeze by 13%.
Lv.10 Increases the chance of inflicting Freeze to 36% and damage to units with Freeze by 36%.
Treasure Hunts

Treasure Hunt: The paper doll is a passive way to accumulate shells. You can get treasure maps from Sea Genie trials which will be used on the next day.
Tide Lore
Tide Lore : Here you can read excerpts about the history of the Sea of Eternity and its characters.
---
Strategy
Sea Exploration
12/02 Update: Sea Genie Trials are over. Only the shop in each area is accessible. Ruins of Eternity and challenging the final boss is the final part to this event.
The first day is spent at Tranquil Sea (Tr) where you learn your way around the event, characters and lore. You can challenge different Sea Genie Trials in order to infuse Halberd and if you made use of all of your Melting Wind, you should have accrued quite a handful of skills.
On the 2nd day, you will be able to unlock the last three areas: Moonfall Sea, Misty Sea and Echoing Sea which will give you access to the corresponding shops. Frozen Sea is now available.
You still need Tidal Force to proceed to the next area.
Once you unlock all four areas, you should have a clear strategy on how to proceed.
Everyday
There is one major Sea Genie trial in each area (except for the Frozen Sea) which costs 0 melting wind and resets daily. You can either form a team or challenge it solo.
Major Sea Genie Trials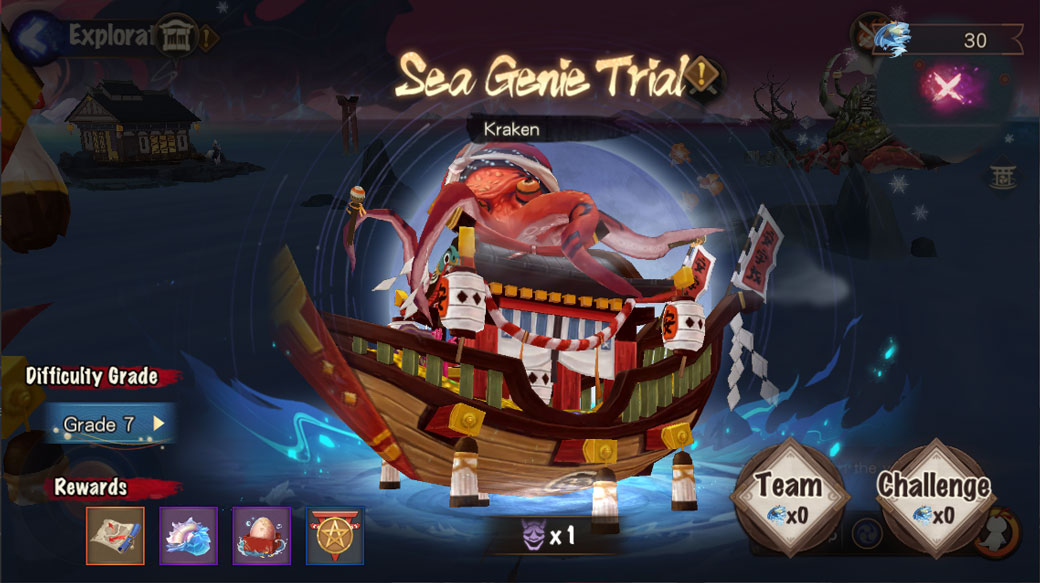 Tranquil Sea: Kraken
Moonfall Sea: Enraged Kraken
Misty Sea: Shinkirou
Echoing Sea: Namazu
Frozen Sea: There are no major Sea Genies in this area.
Update: (Either a bug, intentionally omitted or clarified elsewhere) There seems to be a limit imposed on the major Sea Genie Trials. You can only challenge each monster once a day, either in a team or solo. Challenging a monster a second time, either in a team or solo, will net you zero rewards.
For the Crisis Whirlpools, the limit seems to extend to 10 a day. Your remaining team-up events show at the bottom left-side of the screen.
Tips for low-level players: Rewards are not based on damage but survival. Stall the fight. Wait until the last second to complete an action. Typically, if your teammates are strong enough, the boss won't get to land an attack when you are out of turns. Expect high-level grade souls and rare sea genies.
Complete the Crisis Whirlpool. Low-level players: It doesn't matter if you die, you will still get rewarded as long as your other teammates finish the fight.
Farm strategically. For example: If you wanted to try and max out Ghost Heart, you would challenge the Crisis Whirlpool in Misty Sea.
Exhaust your supply of Melting Wind to ensure you can get treasure maps and upgrades for skills.
Treasure hunts are a passive way to get tons of shells. The more treasure maps you get, the faster shells will accumulate. For example: 86 Treasure Maps= 96,750 Shells/hr.
I don't recommend wasting jade to buy Melting Wind, Sea Genie, or Rare Sea Genie since all it does is provide a way for you to upgrade skills within this event only.
Mansion Kurage has a lot to choose from but if you are just starting out or are low in funds, I suggest going for these first. I suggest waiting until Frozen Sea unlocks to make sure you are not missing out on anything important before you exhaust your funds.
SSR/SP Summon Scroll: This is a good way to try and complete the collection or get an uncollected SSR/SP Shikigami when you are first starting out. There's no guarantee that you will get an uncollected Shikigami. (Verdict: I received an uncollected.)
Grade 5 Daruma: These are painful to create naturally but a complete must.
Skill Daruma
Mystery Amulets (especially if you are struggling to complete your bonus)
Realm Cards: Drums (Jade), Fish (AP), specifically.
Grade 6 Cyan Imp
G4 Grade Daruma
Exp Daruma
Shikigami Challenge Pass
AP/Specialty Boxes last.
Ruins of Eternity
12/03 Update: The boss has been defeated.
The final boss is revealed in Ruins of Eternity. There might have been a hint about the final boss in the messages found scattered all over the sea. In particular, this one:
Perplexed Dragon: My friend killed his loved one and then became her. Do you call that happiness?
Each battle costs 6AP and there's a duration of 3 minutes for each battle.
In each battle, you can acquire 2-5 forgotten books (depending on your battle performance). You can exchange 40 forgotten books for 1 G6 Soul. Keep in mind: you can only choose between three pre-selected souls before the selection rolls over.
The battle will last an entire day which will give you plenty of time to get rewards. Damage accumulates so as long as you can survive the battle, you'll be able to get the following:
50 Jade = 10,000k
Soul Drop Up = 50,000k
Mystery Amulet = 200,000k
10 Skill Daruma (Shards) = 500,000k
G5 Grade Daruma = 1,000,000k
For low-level players: The battle isn't easy without a good support team and at least a G5-G6 DPS. I suggest waiting for his Super-Weak state as it will give you a chance to heal and deal some damage at least.
Conclusion
The event is over. Overall, it was an interesting event, the summoning rate-up was pretty decent (in comparison to the last one), rewards were pretty generous (20+ SSR shards in the Treasure: Ageless Beauty and even Treasure: Merfolk's Song gave me some great G6 souls with high SPD or high Crit /Crit DMG.
The story and lore about the Sea of Eternity was interesting, tragic and detailed.
The aspect of passive farming and auto was a welcomed addition.
Gathering the necessary Sea Genie  to max out the most critical stats was relatively straight-forward and doable.
There were some caveats, however.
I missed some rewards when it came to major Sea Genies because it wasn't explained anywhere (that I could see) that there was a limit of one a day (solo or in a team).
In Crisis Whirlpools, if a player had used auto, it would pause once the whirlpool was completed and resume on the next one. Most of the time I forgot it was on auto and after inviting one teammate, it would skip straight to the battle.
The extra G6 souls received from the final boss with the 40 forgotten books took a bit too long and on top of that, the selection was between three pre-chosen ones before selection rolled over. The amount of shells received for each round was between 10-15K which wasn't enough to purchase any major rewards but it was enough to complete the last shells needed for a final box or so.
Regardless of all that, I thought the event was very fair and enjoyable and I look forward to the next one.