Moon Feast | Onmyoji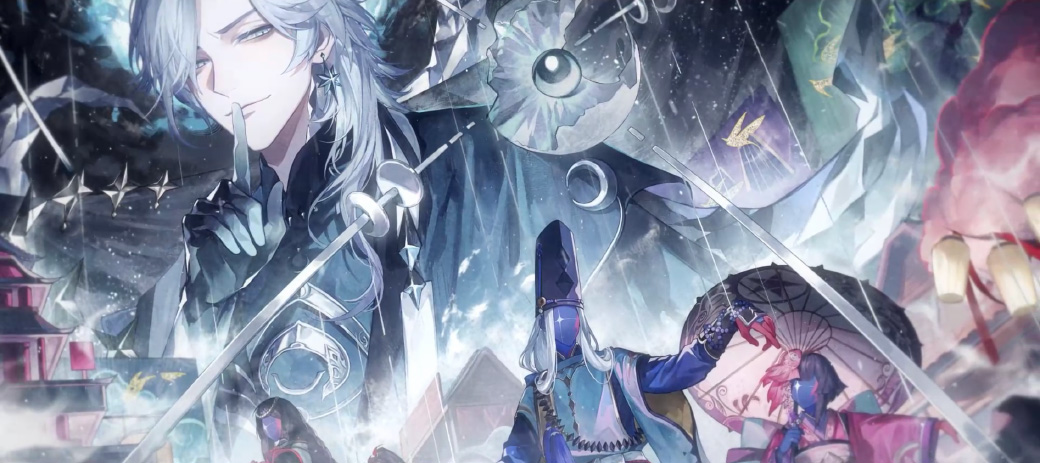 SSR Tsukuyomi is the featured Shikigami for the latest update of the mobile game, Onmyoji. Illusory Moonrise is the Memory Scrolls, The Moon Permits All Illusions is the Summoning Event which will run from Feb.22 to Mar.3 and finally, Moon Feast is the live event.
To access the event, head to the Courtyard and click on the floating icon above SSR Tsukuyomi's head.

The event starts in Moon Feast and there are several activities to go through. Song of Stars is battle. Faux Courtyard and Moon Parade are event activities that are connected. Faux World is where you can replay the event story. Showdown Bidding is where you can place your bids. Moonwalk is a form of Talisman Pass and Moon Vault is this event's shop.
Song of Stars
Song of Stars is battle. 50 Stellar Keys are issued daily. To advance a level, you must clear the battle in 40 seconds. Rewards include True Glimmer, Faux Amulets, Souls, etc. There are no limits to  Co-Op Shikigami for the duration of the event. Level 9 is Lv.40 SSR Tsukuyomi and getting to this level wasn't difficult. I didn't even need to borrow Shikigami. I used SP Nightveil Higanbana, SSR Suzuka Gozen, SR Kiyohime, SR Oitsuki and SSR Enmusubi.
At some point, I reached level 10 with the same setup. The final boss is Lv.40 Star Singer. I'm still using a similar setup as the one mentioned above and I'm able to finish the battle rather quickly but if you let them get a hit, they land devastating blows. SR Kiyohime (Snow Spirit) is necessary for damage control and Enmusubi or another healer is needed to keep yourself alive. For DPS, you will need someone that can quickly wipe out multiple enemies (AoE). SSR Suzuka Gozen is perfect for this but be mindful of her orb consumption. Another great option is SSR Ungaikyo but with him, I finish the battle in 1:00 as opposed to 45 seconds. SP Nightveil Higanbana also acts as an AoE DPS but she compliments another DPS rather than standalone. The final battle grants you enough orbs that a puller isn't really needed so I switched out SR Oitsuki for SSR Senhime. I can't comment on other faster or popular setups since I don't own or haven't experimented with other Shikigami.
Faux Courtyard
Faux Courtyard is composed of Faux Onmyoji and Faux Shikigami. Faux Summon is where you can spend Faux Amulets to summon Faux Shikigami. First 31 summons are a guaranteed uncollected Shikigami. Spending 30 Faux Pacts in the Exchange Chest will allow you to pick a Faux Shikigami of your choosing. Dupe Shikigami will increase the stats of the Shikigami. Faux Onmyoji is where you can improve the stats of each character as well as switch characters. Faux Daruma is necessary to improve skills. Only Starborn is available with Fire Kirin unlocking 02/24, Kraken on 02/26 and Orochi on 02/28. Faux Shikigami is where you can promote Shikigami. Faux Samurai Daruma will promote the Shikigami to lv.40 and max out all skills.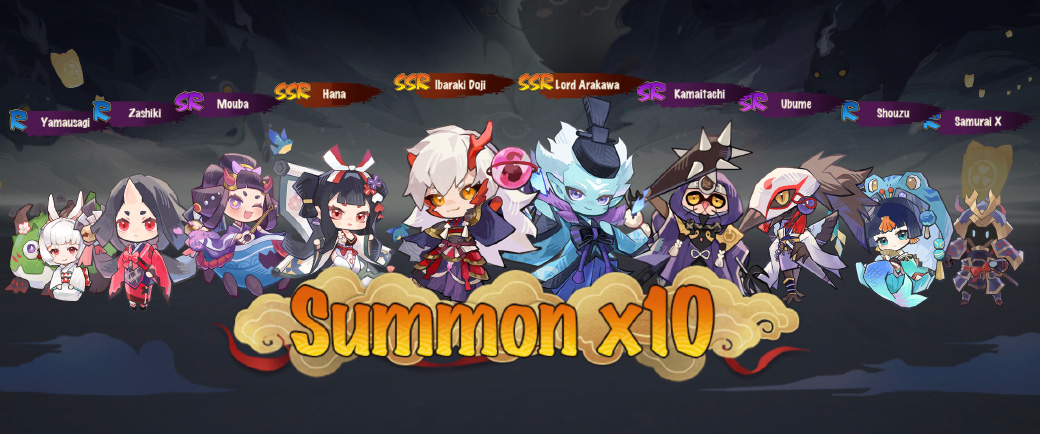 Moon Parade
Moon Parade is this event's main activity. There are 5 regions but only Stilltime Forest is available right now. City of Brawls and Children's Playland will be available on 02/25, Inverted Badland on 02/28 and End of the Moon on 03/03.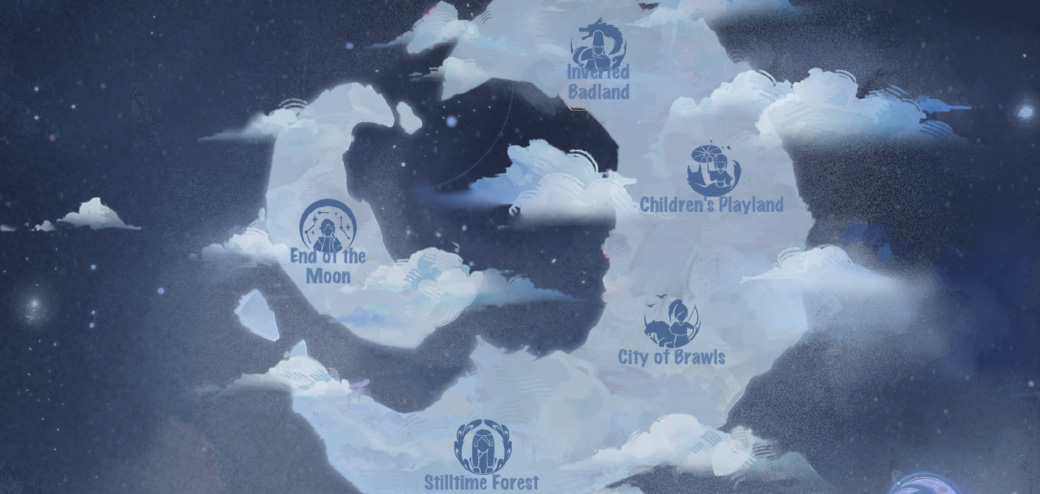 Each battle costs 6 Sushi and rewards include Parade Progress, True Glimmer, Faux Daruma, Faux Samurai Daruma and Candied Plum. You are able to choose the skills your Shikigami uses in battle which is usually not an option. There are 10 battles with the 11th being the boss. For each battle, there's a time limit. Not finishing within the allotted time equals to a fail. At the end of each battle, you can select a bonus. If a Shikigami is KO'd, they are out for the rest of the challenge. Completing the challenge will grant you 6 Faux Daruma and 5 Faux Samurai Daruma.
There's an Exploration Progress which holds your progress as well as current earnings. This is a form of passive earning as you conquer each region. You can get exchange rewards from the Chest of Lies by using Candied Plum.
For the challenges, you need a strong roster of Shikigami. The first set that I got was pretty mediocre with the exception of SSR Ibaraki Doji and SSR Hana and I still wasn't able to beat region one.
I used Song of Stars to get enough Faux Amulets to get an uncollected Shikigami and the intention was to use 30 Faux Pacts to summon Taishakuten or Asura but I ended up getting them both as well as Enmusubi. Without beating any challenges, I was initially forced to purchase Faux Samurai Daruma using True Glimmer but once you have a strong roster, that will be your only investment needed.
Try to get Snow Spirit as one of your bonuses since it will help tremendously for the challenges. Other notable bonuses are Song of Stilltime and Alchemy which grants an additional Faux Daruma for each battle. At the end of one challenge, I was given 13.
If you haven't beat any of the regions yet, I suggest just using Orochi as your Faux Onmyoji to complete the challenges. Orochi was unlocked on 02/28 and it's the best one.
To beat Stilltime Forest, I used SSR Asura, SSR Taishakuten, SSR Enmusubi, SSR Hana (already owned) and R Yamausagi (also already owned).
To beat City of Brawls, I used SSR Asura, SSR Taishakuten, SSR Enmusubi, SSR Hana and R Yamausagi. I  switched Starborn for Fire Kirin.
To beat Children's Playland, I used SSR Asura, SSR Taishakuten, SSR Enmusubi, SSR Hana and R Yamausagi. I switched Fire Kirin for Kraken.
To beat Inverted Badland, I used SSR Asura, SSR Taishakuten, SSR Enmusubi, SSR Hana and R Yamausagi. I  switched Kraken for Orochi. I was able to get gold on many challenges including the final one.
I beat the rest of the regions using the setup above. I managed to complete it on the last day.
Faux Moonfall
Now that Moon Parade is done, we are getting ready for the second part of the event. Right now, only Faux Seimei is available and the rest of the Faux Onmyoji are locked to their respective dates.
Each battle costs 12 Sushi.
There are three difficulty levels: Normal, Hard and Nightmare.
Clearing any difficulty level (first 30 challenges) will increase your daily True Glimmer by an additional 30.
The boss is immune to all sealing effects.
Rewards include: Forgotten Books, Souls, True Glimmer, Cyan Imps, Material, etc.
I borrowed SP Fallen God Orochi to clear hard mode and stayed at that difficulty level since I have no urgency for any items in the shop. This is a great opportunity to grind the boss for those that missed out on part one and there's plenty of time to get shop currency, provided you have the Sushi for it.
Moon Vault
Moon Vault is this event's shop. The shop has 3 levels: Misbelief, Fallacy and Sophistry. True Glimmer is the currency for the shop. Uminocho's special skin is Flower-hat Pearl. Notable purchases are up to the player's needs and level but some recommendations:
Grade Daruma
Skill Daruma and shards
EXP Daruma
Mystery  Amulets
SSR/SP Summon Scroll
Jade
Realm Cards
Cyan Imps and Evo mats.
If you are more interested in aesthetics or have extra currency: Event Skin > Skin Tokens > Event Frames >  Souvenir boxes
Final Thoughts
My summoning luck was deplorable and the anniversary gave me a dupe and the SP/SSR Scroll gave me another dupe. I wish they would at least give us some of the newer Shikigami and not the classic ones that you can even get at the shop. I did, however, receive my uncollected Shikigami: SP Valiant Yamakaze and while I wasn't crazy about him or his event, an uncollected is an uncollected so I can't complain!
The event itself was pretty fun. It required some initial strategizing but afterwards, it was a breeze and very chill. It didn't feel like I had to rush to get things done. As of 02/28, I got everything from the shop. I'm still passively participating to purchase the Souvenir boxes.