Fragrance Seeking | Onmyoji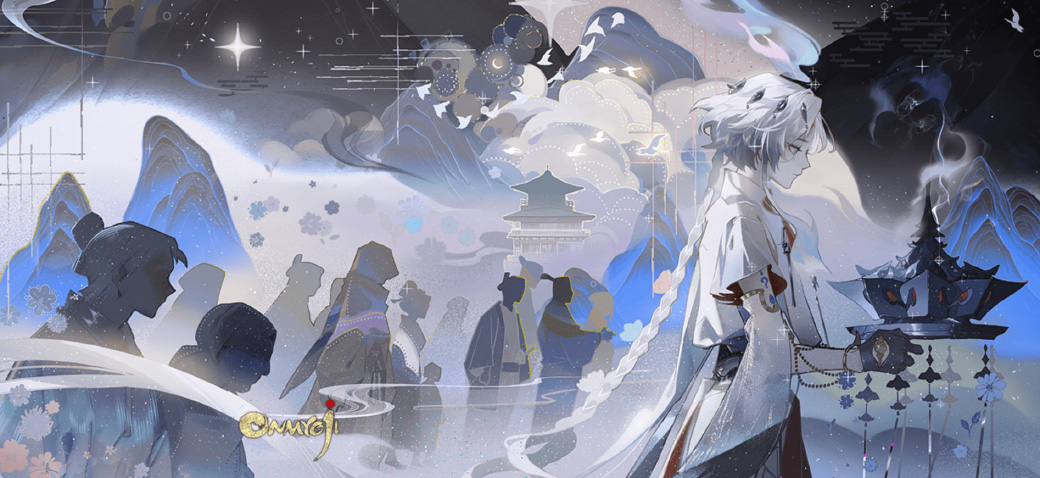 SSR Jinkougyou is the featured Shikigami for the latest update of the mobile game, Onmyoji. Travel the World to Grant One Wish are the Memory Scrolls, Search for the Fragment Hope is the Summoning Event which will run from Nov. 23 to Dec. 4 and finally, Fragrance Seeking is the live event.
To access the event, head to the Courtyard and click on the floating icon above Jinkougyou's head.
The event starts in Fragrance Seeking. Fragrant Memories is the Story, Scent Search is Battle, Sincere Hope is Promote, Scented Pass is a form of Talisman Pass and Scented Stash is this event's shop.
This is an Uber Boss event which means it's divided into two phases. The first phase is Fragrance Seeking and the second phase is True Faith.
Fragrance Seeking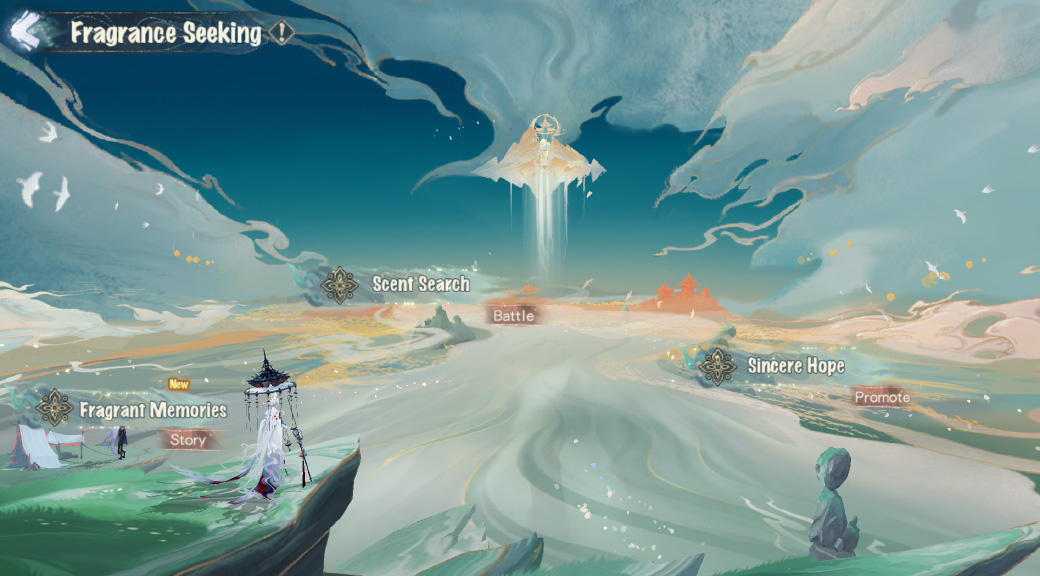 Fragrant Memories
Scented Journey is where you can replay the story. Every day, a new chapter unlocks. Selecting Replay will play out the story in the form of a Visual Novel, otherwise you can read it in the form of a log. Glowing Images contains movie clips for the story so far. Dream Galaxy depends on your personal Uber Boss score.
Scent Search
EX is useful to see on which date and which Shikigami will gain the ATK and DEF bonus. Co-Op is for lending and borrowing Shikigami. Routine Patrol will start the hunt. You will receive the rewards for yesterday's Routine Patrol overall score the next day which are Uber Boss Feat and Uber Boss Score. You can claim Rewards independently after each battle by selecting Rewards. Keep in mind the Fatigue bar. Mountain Censer cuts the energy required for each battle and is needed in order to challenge Uber Bosses. You will receive 3 every day and additional ones can be acquired through Exploration Zones, Soul Zones and Evo Zones.
I only had to farm all day once (all feeding attempts) and got 50 Mountain Censers.
Sincere Hope

Here you can Promote Jinkougyou and Hikaru. You will need Wistful Incenses which are acquired when defeating Uber Bosses. Once you acquire a certain number of Wistful Incenses, skills will become unlockable. Since Wistful Incense accumulate instead of being spent once used, you will be able to unlock Jinkougyou and Hikaru's skills at the same time.
Jinkougyou's Skills | # of Wistful Incenses required
25 - Transcend
50 - Clear Mind
75 - Cleansing
100 - Skillful
125 - Dream Binder
150 - Bodhicitta
Hikaru's Skills | # of Wistful Incenses required
25 - Apprehend
50 - Take Incense
75 - Calm Breathing
100 - Blend Incenses
125 - Soul Drainer
150 - Mountain Fall
Scented Stash
Only 1-level for the shop. Blight Butterfly is this event's special skin for Kodokushi. Notable purchases are up to the player's needs and level but some recommendations: - Grade Daruma
- Skill Daruma and shards
- EXP Daruma
- Mystery  Amulets
- SSR/SP Summon Scroll
- Jade
- Realm Cards
- Cyan Imps and Evo mats.
If you are more interested in aesthetics or have extra currency:
- Event Skin
- Skin Tokens
- Event Frames
Finally, if you still have currency, go for the Uber Boss boxes.
True Faith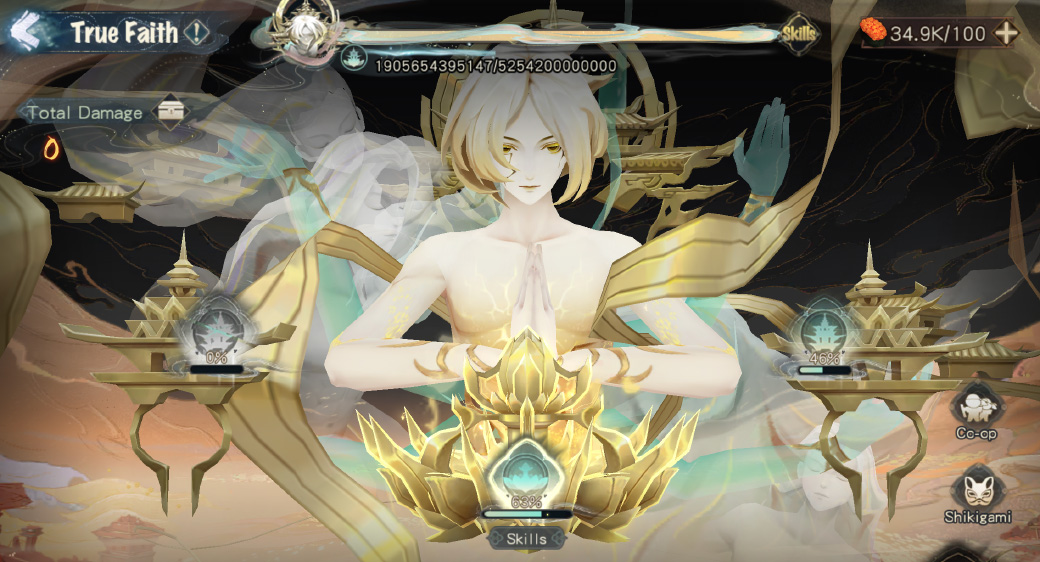 Fragrance Seeking is done. We are now on the second phase of the event, True Faith. The Uber Boss is Jikokuten.
Players need to destroy all three censers before challenging the boss directly.
There's no limit on borrowed Shikigami during True Faith.
You will need to deal at least 7.5 million damage per battle to get a reward.
The cost for each battle is 6 Sushi.
Rewards come in the form of Wistful Incense which can be used to unlock additional skills in Sincere Hope and Mind's Ward which can be used in Fragrant Rewards to get Uber Boss Feats, Uber Boss Score, Orochi's Reverse Scales, Grade 6 Souls, G4 Cyan Imps and G6 Souls. You can exchange rewards for up to 400 times.
Total Damage will grant you minor rewards depending on the amount of damage you deal.
I was able to reach 1 million by battling against Jikokuten's censers all day, which allowed me to fully unlock the shop.
Improvements
Most notable improvement is the absence of the gesture bar in iOS devices which would photobomb screenshots and even cut off dialogue.
It truly feels like a Visual Novel experience, now that a Log is included on the side and there's an option to Auto advance or Skip. Replaying the story also removes World Chat when reading or you can head into a less crowded channel so that your reading experience won't be disrupted.
Final Thoughts
The story was fantastic. I found myself entirely invested in Jinkougyou and Hikaru's struggle. I was also able to use all three of my summoning chances with only 20 amulets and even got an uncollected. I didn't see a limit with Co-Op borrowed Shikigami which came entirely too handy in True Faith. I did think that the 7.5 million per battle was a bit restrictive and when it came to battling against Jikokuten and not his censers, I found myself struggling.