Awakening Dance | Onmyoji
SSR Kujaku-Myoo is the featured Shikigami for the latest update of the mobile game, Onmyoji. Caged Bird's Reborn are the Memory Scrolls, Sinner with Noble Plumes is the Summoning Event and finally, Awakening Dance is the live event which will run from June 21 to June 27
To access the event, head to the Courtyard and click on the floating icon above SSR Kujaku-Myoo's head.
The event starts in Awakening Dance with a map similar to that of the plaza. You can walk around and interact. There are Current Quests that need to be completed in order to advance the event. Plume for love is the talisman pass for this event and you can passively complete it as you go through the event. Ritual Stories is where you can revisit the main event's stories. Some stories will be locked depending on day and stage.
The event is divided into two stages:  Stage 1: Peacekeeping, Ground Patrol, Ritual Chests, Diva  Encounter and Support Water Ball.
Stage 2: Lustful Hindrance, Evil Heresy and Garden of Desires
Stage 1
Day 1
When you approach Enmusubi, you will see both objectives. Ground Patrol or Blessing.
Get the blessing first as it doesn't have additional objectives. You will receive Takamagahara's Blessing which can be found in Peacock's Boons.
Ground Inspection 1 (1/4)
Choosing Ground Patrol, you will need to locate Hana but she has an ! mark over her head.
The target location where you need to perform in marked and as soon as you step into the circle, it will say 'You arrived at the quest location' not to be confused with the stage.
Interact > Action > Music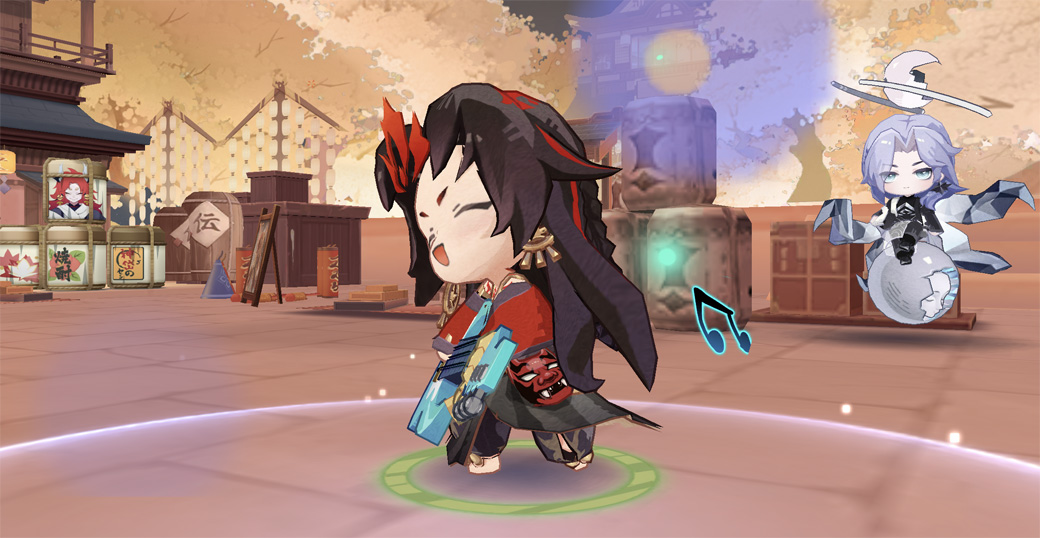 Ground Inspection 1 (2/4)
Locate Ibaraki Doji > Ritual Interlude
You can choose Impressive or What a great friendship. I went with Impressive.
Ground Inspection 1 (3/4)
Locate Asura > Field Building
You will need to draw the pattern
Ground Inspection 1 (4/4)
Locate the Divine Prophet > Small Talk
Peacekeeping > Go now
This is a fight. There are 10 levels of difficulty. You will receive 60 Feathery Invite daily. This is needed to challenge battle.
Chest Searching > Search Now > Open Treasure Chest
It costs 100 sushi to challenge a chest and you can do it solo or with friends. I was able to clear it solo in four minutes and still got many rewards.
Day 2
When you approach Enmusubi, you will see both objectives. Ground Patrol or Blessing.
Ground Inspection 2 (1/4)
Find Youko > Ground Patrol
Go to the target location > interact > action > mad
Ground Inspection 2 (2/4)
Find Sakura  > Ritual Interlude
Ground Inspection 2 (3/4)
Find Momo  > Ritual Interlude
Field Building 2 (4/4)
Find Ichimokuren > Field Building
You will need to draw a pattern.
Small Talk 2 (4/4)
Find Seimei > Small Talk
Peacekeeping > Go now
You will encounter a monster labeled ' troublemaker'.
Chest Searching > Search Now >
This is a fancy chest encounter. Instead of Sushi, you need Feathery Keys.
This is not a fight or a challenge. You will get 5 attempts and each attempt will cost 50 Feathery Keys.
The rest of the days, will follow similar patterns. The important part is to keep with the daily quests and battle farming for currency.
Stage 2
We are finished with stage 1 of the event. Stage 2 is where the boss battles start. Lustful Hindrance Is the first boss battle. There are 25 daily challenges and Total Damage rewards. Each challenge costs 8 Sushi.
Peacock's Boons
Here is where you can see all your blessings as well as equipping them. There are 5 blessings but you can only equip one at a time. The blessings can be acquired from the onmyoji or can be purchased on stage 2 of the event.
Pavo Treasury
Pavo Treasury is this event's shop. The shop has 3 levels. Hoshiguma Doji special skin - Spring Greenery. Notable purchases are up to the player's needs and level but some recommendations:
Grade Daruma
Skill Daruma and shards
EXP Daruma
Mystery  Amulets
SSR/SP Summon Scroll
Jade
Realm Cards
Cyan Imps and Evo mats.
If you are more interested in aesthetics or have extra currency: Event Skin > Skin Tokens > Event Frames
Final Thoughts
Although I didn't manage to summon SSR Kujaku-Myoo, I still liked that a Shikigami was given at a 40th summon and then again at 50. The Moon Amulet (which allows you to select any Shikigami) is now attainable as opposed to guessing how many summons it would take and —while it's way out of my budget, I recall a time when you could summon 500, 600 and even more times— and there still wasn't a guaranteed SP/SSR Shikigami. The event itself was very interactive which is refreshing and the animations for the new Shikigami were incredible. I was able to clear the shop 1-2 days before the boss fight. The boss fights were pretty easy. I was able to clear all Total Damage rewards in one day as opposed to several days. I got 34,000,000 per challenge so in this regard, I have no complains. All in all, it felt very passive but doable.
Here are some of my favorite screenshots from the event.