Onmyoji 3rd Year Anniversary Celebration
The latest update of Onmyoji is its 3rd Year Anniversary Celebration bringing with it tons of generous rewards along with their newest featured Shikigami SP Nightveil Higanbana.
---
Summon Event: Underworld Blossom Bloomed Again

Underworld Blossom Bloomed Again is the summon event that features SP Nightveil Higanbana. During the summon event, you have a 2.5% Chance Up of drawing an SP/SSR up to three times. The first SP/SSR you roll will be a guaranteed uncollected.
There's also the chance of the Blessed Amulet appearing. Chances increase with every summon you make. The Blessed Amulet allows you to select any past or new SP/SSR Shikigami (excluding crossovers and Ryomen)
The Blessed Amulet along with my random SP/SSR appeared for me once I reached 120 summons.

Once you receive the Blessed Amulet, you need to claim it the same way you claim your SR bonus. There will be a glowing icon with the Blessed Amulet and clicking on it will present you with a selection window.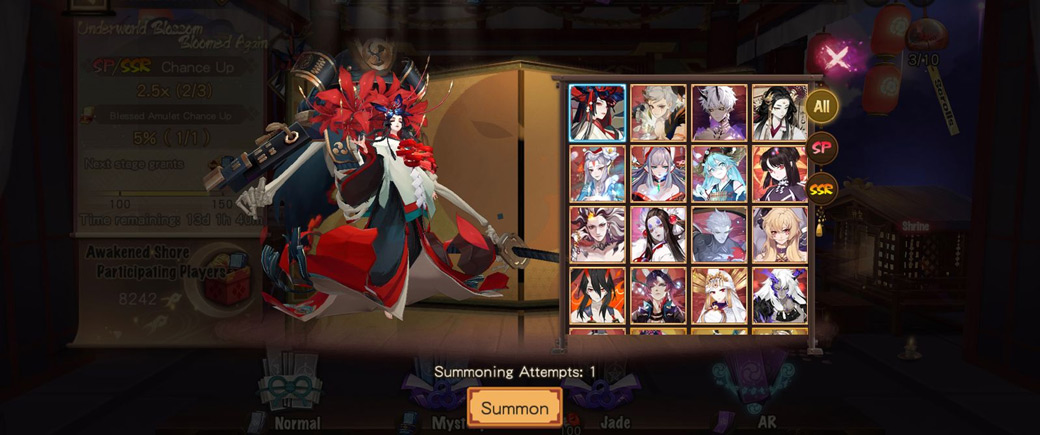 I chose the featured Shikigami for my selection. Be advised that the file size for her animation movie is huge. The game will ask you if you want to download it. It was very laggy on my phone which can handle most high-intensive graphic games.
If not for the Blessed Amulet, this would be my second event of bad luck. At 120 summons, I received trash (with the exclusion of the uncollected) and the bad luck streak: vexing.
Anniversary Summon: Guaranteed SP/SSR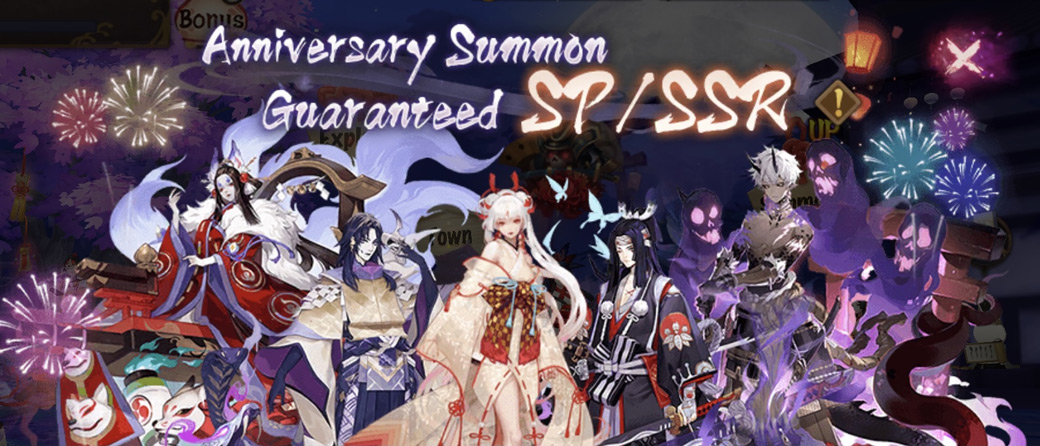 You will need 120 tickets for the guaranteed SP/SSR. It doesn't affect your SP/SSR Chance-Up or your uncollected bonus. You can use anything to summon, excluding Broken Amulets.
Shuten Doji was my random SP/SSR and it was done automatically.
Demon Celebration

Demon Celebration can be accessed from the courtyard. Click on the paper dolls holding a birthday cake with a floating icon of SP/SSR. Here you'll be able to claim a random Froglet, SR and SP/SSR Shikigami.
Frog Blessings
Frog Blessings can be accessed from the courtyard by clicking on the paper doll. It's the second icon. The event duration is from February 8 till Feb 12. Smash all three frogs every day to claim the rewards.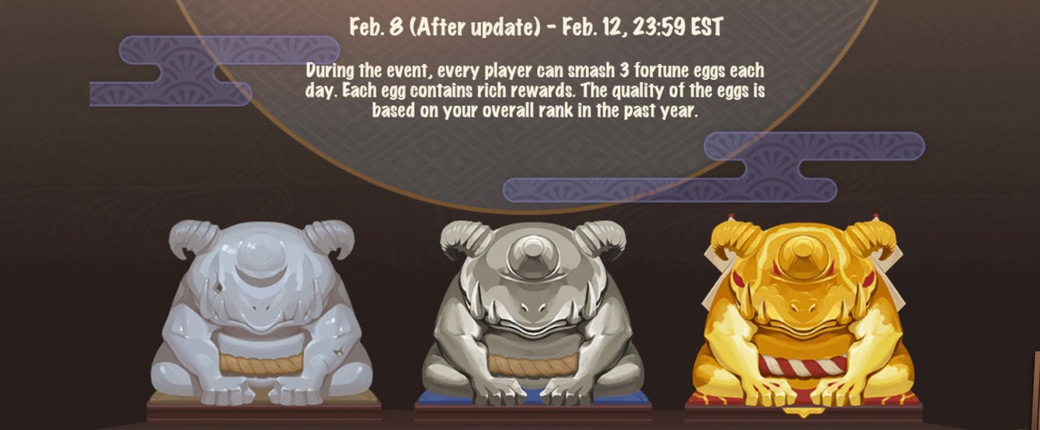 Underworld Blossom
This is the main event of the game, featuring SP Nightveil  Higanbana. There are many activities to do here, updated every day. Players can progress through the story and purchase rewards with currency gained from the event.
You can access the event in the courtyard by clicking on SP Nightveil Higanbana.