2023-24 Regoldenbook Planner Review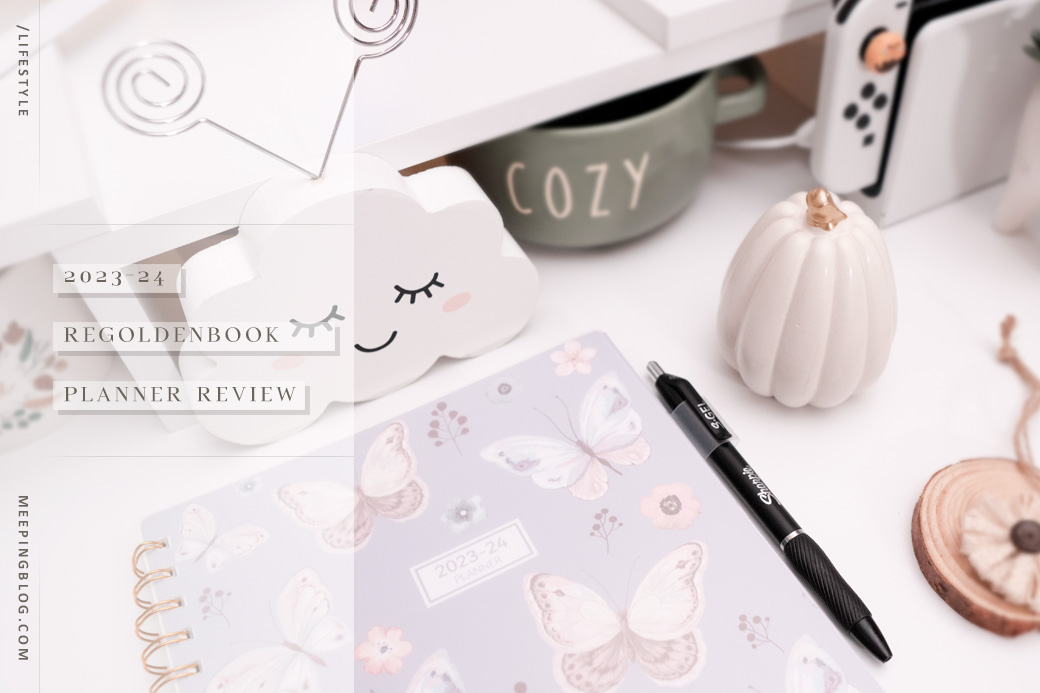 Regoldenbook sent over their planner for review but thoughts and opinions are my solely my own.
Disclaimer: This post contains affiliate links. Clicking on these links are of no cost to you and help support my lil' reviewing nook.
They have a wide selection to choose from but I went with their 2023-24 Weekly & Monthly Agenda Planner which features blue butterflies on the cover. Sizes available are B5 and A5 but I went with B5.
For me, a vibrant cover is important as I'm a visual individual.
Features
Waterproof Cover
Quick Reference Information
2023 & 2024 Yearly Overview
Holidays
Yearly Goals
Contacts Page
Important Dates
Monthly Pages
Weekly Pages
Notes
The planner starts from July to December of 2023 and continues into 2024 - January to June which is perfect for getting started to plan out the next year.
You get enough pages for your planning needs, sectioned by monthly tabs, a decent layout paired with a big poly pocket and pen holder which is always useful on the go.
Pages are thick enough to prevent ink bleeds yet soft. This is important to me because I'm particular about textures.
If you want something compact but not too small, I suggest picking out a B5 size. I find it just perfect for my needs but if you want something even smaller, the A5 might be the better choice.
Writing Test
The first thing I test is how well my favorite pen performs on it. I use a 0.7 inked pen so it's important for me that the ink doesn't bleed on the page.
Observation: My Sharpie 0.7 S.GEL pen did well. There's almost no ink bleed on the other side.
This isn't the strongest indicator, however, as it is not the heaviest pen I own.
Next, markers. These particular markers I bought awhile back are problematic as they tend to bleed through any notebook or planner pages so I tend to avoid them but I wanted to see how they would perform with this planner.
Observation: The Ultra Fine Point Sharpie permanent markers had minimal ink bleeding (Typical result with any notebooks/planners I've tested) but the Fine Point Sharpie permanent markers were too strong for the paper which is what I usually get with other planners. All in all, the tests were passed.
Next, stickers. As I mentioned before, visuals are very important to me. I use stickers for context, to break the monotony or to emphasize an event.
Observation: Stickers had no trouble adhering to the paper.
Daily Use
To get a true feel for the planner's capabilities, I copied down my yearly and monthly goals/OKRs. You can set 5 goals, each section split into rewards, dealine and plans to achieve that goal. Personally, I don't like to track more than three goals a year but they tend to be complex.
I also wrote meaningful but important reminders in the Important Dates section which has all the months divided into 2 pages. It doesn't feel cramped at all despite having six months per page. I use this section mostly for birthdays or upcoming surgeries, vacations, etc.
I am a strong believer of conducting weekly, monthly and yearly reviews and having the weekly review section is incredibly useful to quickly summarize my week and conduct my monthly reviews faster.
For every month, you get a Monthly Goals section to write 6 items and a Monthly Review section. Here's where I like to put my Key Results or measurable goals that are tied to that main yearly goal. You get a Monthly To do and a Notes section. I'm using the Monthly To Do section to write out specifics for my monthly review, noteworthy things that I'm proud of.
Observation: There's plenty of space for me to write down my tasks for the day, weekly appointments and gratitude. The Weekly Focus section is used to set my three main goals for the week which are tied to my monthly OKRs. I use Top Priority to outline the most important task of the week, things that are urgent and typically work related.
I don't track too many habits but you get room to write 6 habits and track them from Monday to Sunday.
Since this planner is focused on weekly and monthly planning, with each weekly spread, you get a Weekly To Do section which has room for 13 items. I add all my GTD (Get Things Done) items here as well as any that are related to the weekly reset (cleaning, tidying up, restarting laptop, etc.) There's a mini monthly calendar which allows you to easily keep track of your week. I've been circling the days that correspond to appointments with the same color marker/pen.  
And here's what my daily planner might look like, paired with stickers and colorful additions. I've given vague examples of things I typically do without adding too much detail as planners tend to be very personal and private.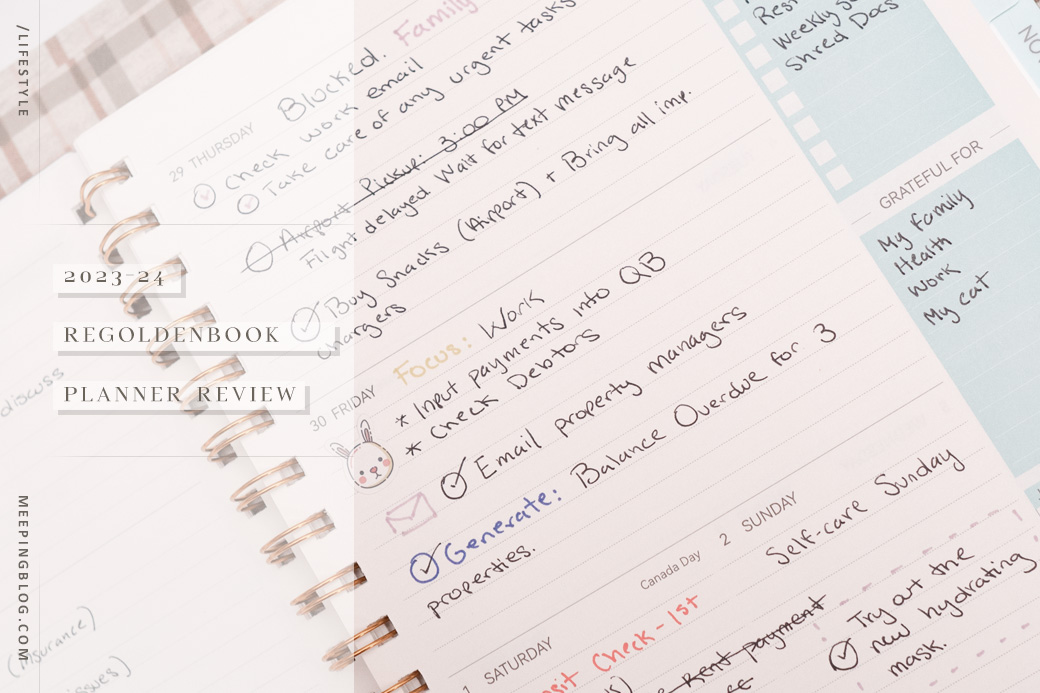 The planner is priced $11.99 (B5) and $9.99 (A5) from the time of writing this post and you can get it on Amazon.
Final Thoughts
This is a great budget planner that doesn't sacrifice quality. It is a very comfortable but compact planner that fits snug in my laptop bag when I'm on the go. There's plenty of room for me to write in when I'm planning out my day, week or month. Pages are pretty resistant and will withstand the test of time and ink bleeding. I was able to naturally plan my day as usual with a few nicer extra sections such as weekly focus, top priority, appointments, etc. and the weekly review which is so very valuable to me.
Once again, thank you to Regoldenbook for sending me their planner for review. It is a lovely addition to my collection.